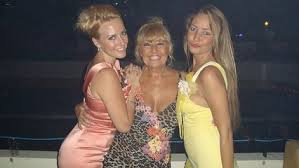 Psychics, Fortunetellers, Professors, Cosmologists and Alchemists, known from Radio, Media and Television.
Anika Theunisz has successfully established her institute in the Netherlands, Belgium, Germany, and Spain for more than 50 years.
Anika Theunisz was born into a Nomad family. For more than 500 years it has been living in the Family, this count goes back much further, it is a family tradition, the gift is passed on from mother to child. The daughters of Anika, Michele and Dileila also received the gifts. Her daughters were also born and raised with spirituality. Together they give their advice and way of life to the people who come to them.
Youth
Anika Theunisz was already a special girl as a child, she was different from other children, partly because of her mother who taught her a lot about spirituality. Her mother Wilhelmina taught her how to see the spiritual connection in a human's face. From an early age Anika Theunisz was always busy with herbs and experiments, she knew there was more between heaven and earth, she had this feeling from a very young age. She started studying early on every spiritual and scientific level because these 2 are closely linked. She reads a lot and does physical and mental experiments to keep developing herself. Anika travels in an Antique Nostalgic over 100 year old wooden gypsy wagon that has belonged to her family to many countries in the world. She became wellknown at a very young age and has appeared in many newspapers and was heard weekly on the Radio. She lived in Hamburg for 20 years, where she had her own television program about spirituality and health on the TV channel Hamburg eins.
Present day
Today Anika does her special work together with her daughters Michele & Dileila. They can often be seen with the beautiful Nostalgic caravan and travel to many places in the world. In the Netherlands, Belgium, Germany and Luxembourg they are invited by various television programs, journalists from newspapers, radio and media and the three of them give many different courses, online courses, webinars and seminars for young and old.